1979 Darci Fashion Finds Garden Gal!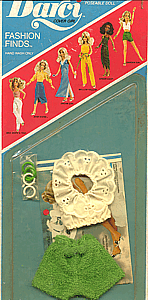 A rarity here, Darci Fashion Finds Garden Gal never removed from the card! Very 1970's fashion with green towelling shorts and a white lace, halter neck, midriff showing top (yes, Britney Spears didn't do it first!).
Also includes five bangles, three green and two white and a World of Darci booklet.
Glorious colour graphics of other Darci 1970's clothing and her Darci Disco and Darci Perfect Pose Studio. The card does have very minor age wear.
Note, we only have one of this item.
$75